Yaletown. Where heritage meets modern.
Established in the 1880s, the Yaletown neighbourhood's industrial roots are still evident in its preserved architecture. Bordering False Creek and encompassing False Creek North, Yaletown boasts a picturesque marina and scenic parks, as well as breathtaking condos and townhomes along the water. The commercial area features historic brick walkways bustling with locals and tourists alike. Enjoy high end boutiques, bistros, coffee shops, bars, art galleries, and a vibrant nightlife and food scene. Yaletown attracts young professionals and young families and more recently empty nesters who appreciate the spectacular views, sea wall, and high end finishings characteristic of buildings like Kings Landing, The Erickson, Charleson Vancouver House.
Yaletown is one of the most densely populated areas in the city. With its marinas, parks, high-rise luxury condos, and converted heritage buildings Yaletown constitutes one of the most significant urban regeneration projects in North America and was ground zero during the 2010 Olympic Games. Talk to our Yaletown specialists to determine where in Yaletown you should look in order to ensure peace and quite in this very urban neighbourhood.
Yaletown Highlights
Follow the False Creek Seawall in Yaletown all the way to Stanley Park!
Boutique and trendy shopping in Yaletown.
Proximity to English Bay, Downtown, and Granville Island.
Restaurants, lounges and night time fun.
Urban Fare groceries and plenty of coffee shops.
22 minutes to YVR via the Canada Line.
Granville Island is a short water taxi away.
Stunning views of the city or waterviews - the choice is yours if you can afford it.
Yaletown living offers trendy and upscale living.
Schools: Quayside, Dorothy Lam, The Mark, and Sea Star Children's Centres. Elsie Roy Elementary Schools. King George Secondary School close by as well as Pattison High School and Westside Prep School for private school options.
High end condos, townhomes and luxury penthouses.
Young familes, renters, and downsizers, Yaletown has it all.
WHAT'S YALETOWN LIKE?
---
THE VIBE

Trendy

Night Life

4 Star Dining

Dog Friendly

Boutique Shopping

Yoga

Urban Living


PUBLIC TRANSIT

Canada Line Skytrain

Bus

Bike Routes

Aqua Bus

99

Walkers Paradise

90

Transit Choices

97

Near Perfect
WHERE IS YALETOWN?
---
MAP AND BOUNDARIES
The waters of False Creek provide Yaletown with its natural boundary while on the north Yaletown is bounded by Homer and Robson Street and shares and Burrard Street bridge from the west. Once the old Expo lands Yaletown basically extends from the Burrard Street bridge all along the water to where Rogers Arena is.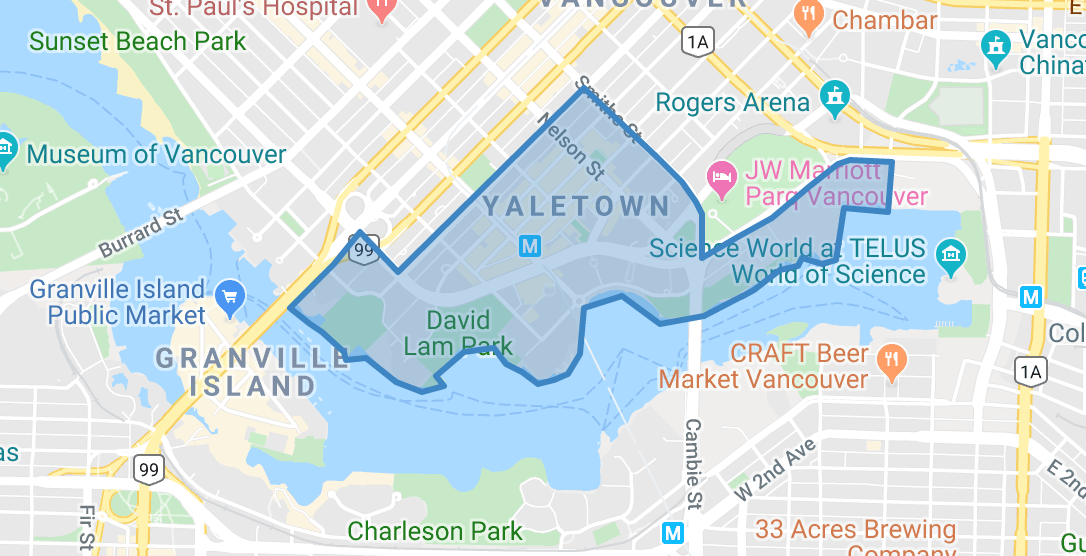 HAVE A QUESTION ABOUT YALETOWN?
---
Reach out. We are here to help.
Customize Your Search and Get REAL-TIME MLS® Listing Access for new Yaletown listings.
VancouverRealEstate.com offers VIP access - a service that speeds up and improves the process of looking at homes. We offer a +24 hour head start on other buyers when using our MLS® service. Simply create a FREE account and our system will begin to learn the properties that match your criteria and in real-time you will be notified of new listings. The future of real estate search is here.