Strathcona.
Strathcona is Vancouver's oldest community and is currently undergoing an exciting revitalization. The area is loosely bordered by the Burrard Inlet, False Creek, historic Chinatown. It is home to the first school of Vancouver, the Hastings Sawmill School. Many homes in the neighbourhood are 19th and 20th century heritage housing, making it a prime area for young families who are looking to purchase and restore these homes. Because of the architectural history of these homes, many of them have been granted the honour of "heritage" housing. Row homes were the flavour of the time, and many of them are getting a new life via restoration. Also, the recent gentrification of the neighbourhood has meant an influx of many mid- to high-rises popping up in the area, with prices much more affordable than neighbouring communities, such as Yaletown. The area is also well-known for up and coming restaurants as well as some amazing coffee hot spots. See below for details.
Strathcona Highlights
Strathcona encompasses Chinatown.
Neighbouring Gastown and Chinatown neighbourhoods (part of Vancouver East).
East Hastings Street provides quick access out of the city.
MacLean Park offers lots green space while Strathcona Park is a good option for dog walking.
Multiple smaller and more intimate dining options including high end and casual.
Ethnic Dining: Campagnolo, Phnom Penh, Tapas Lounge, Bodega on Main, The Union, Kissa Tanto.
Cafes: The Wilder Snail, La Casa Gelato, Prototype Coffee.
Craft Beer + food: Strathcona Beer house, Container Brewing, Strange Fellows Brewing
Must visit: 100 year old corner store Benny's Italian Food Market.
Strathcona Community Centre, Ray-Cam Cooperative Centre and Strathcona Fitness Centre.
60 percent of residents report Chinese as their mother tongue, with English at 24 percent
Schools: Admiral Seymour and Lord Strathcona Elementary Schools (K-7).
WHAT'S STRATHCONA LIKE?
---
THE VIBE

Urban Professionals

Heriage Homes

Coffee Crowd

Artistic

Gentrification


TRANSIT OPTIONS

Skytrain and Mainstreet Skytrain

Public Bus

Bike Routes

Sea Bus
95

Walkers Paradise

87

Transit Choices

86

Bike Lanes
WHERE IS STRATHCONA?
---
MAP AND BOUNDARIES
Strathcona is bordered by Main Street to the west, Clark Drive to the east, the CN Railway yards to the south and north to the Vancouver harbour. Strathcona shares borders with Chinatown and Gastown on the west and Main Street's Mount Pleasant to the south.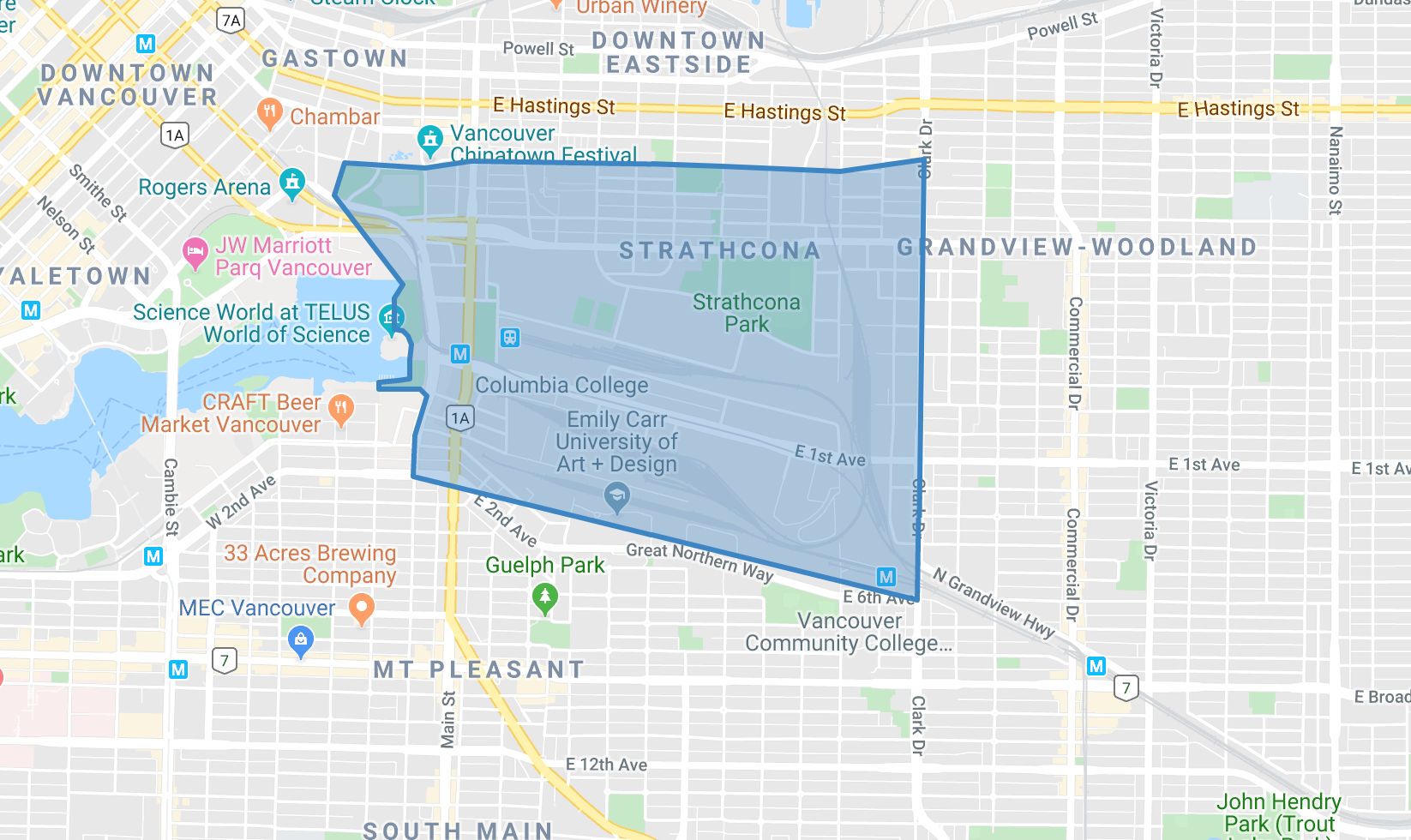 HAVE A QUESTION ABOUT COAL HARBOUR?
---
Reach out. We are here to help.
Customize Your Search and Get REAL-TIME MLS® Listing Access for new Strathcona listings.
VancouverRealEstate.com offers VIP access - a service that speeds up and improves the process of looking at homes. We offer a +24 hour head start on other buyers when using our MLS® service. Simply create a FREE account and our system will begin to learn the properties that match your criteria and in real-time you will be notified of new listings. The future of real estate search is here.