Olympic Village.
Olympic Village is located in the coveted Southeast False Creek area of Vancouver, has focused on being energy efficient and sustainable. A mixed-use community offering over 1,100 residential units (this is expected to grow to 5,000 by 2020), as well as retail shops, restaurants and green spaces made up of area parks. The buildings in the area are all LEED Gold, with reduction in water consumption via storm water management, green roofs as well as solar heating and other energy efficient features. Part of the Southeast False Creek development features a 45,000 square feet waterfront community centre, Creekside Community Recreation Centre, a LEED Platinum building, the best designation you can get for green buildings in North America. It's also home to Habitat Island, a man-made island using the materials used in the Olympic Village build. The area is a home for lush greenery, small animals as well as being a haven for birds. To preserve the sanctity of the island, dogs and cyclists for forbidden to be on the island.
The Olympic Village is a mixed-use community and is one of the greenest communities in the world. It has gone from being a poorly managed construction project for the Olympics to one of the most vibrant communities full of amenities with quick and easy access to most areas in Vancouver.
Talk to one of our specialists to determine if Olympic Village is right for your young family as there is currently a major shortage of nearby schools.
Olympic Village Highlights
False Creek South seawall walk to Granville Island is only 2.17km.
Take the Aquabus to Yaletown, English Bay and Granville Island.
Waterfront living.
Greenest city and urban living.
Urban Fare, small retail stores, coffee shops and one massive craft beer market.
Brand new Creekside Community Centre.
Access downtown with a quick water taxi away.
Stunning views of the city.
Big box shopping on Cambie Street.
Schools: False Creek Elementary School and more are planned...
High end condos, townhomes and luxury penthouses.
Young familes, renters, and downsizers.
WHAT'S OLYMPIC VILLAGE LIKE?
---
THE VIBE

LEED Certified

New Community

Seawall

Dog Friendly

Family Friendly

Parks

Urban Living


TRANSIT OPTIONS

Canada Line Skytrain

Public Bus

Via Rail Train

Greyhound Bus Station

Bike Routes

Water Taxis

99

Walkers Paradise

90

Transit Choices

97

Near Perfect
WHERE IS OLYMPIC VILLAGE?
---
MAP AND BOUNDARIES
The waters of False Creek provide the Olympic Village with its natural boundary to the south. The Village is part of the larger False Creek North area and is basically situated between Cambie Street bridge and Main Street. Including the area east of Quebec Street to Main Street we are also including a small area of Mount Pleasant in what we consider to be part of the Olympic Village neighbourhood as new developments in the Main Street area were constructed for the proximity to Olympic Village. The southern boundary would loosly be West 2nd Avenue .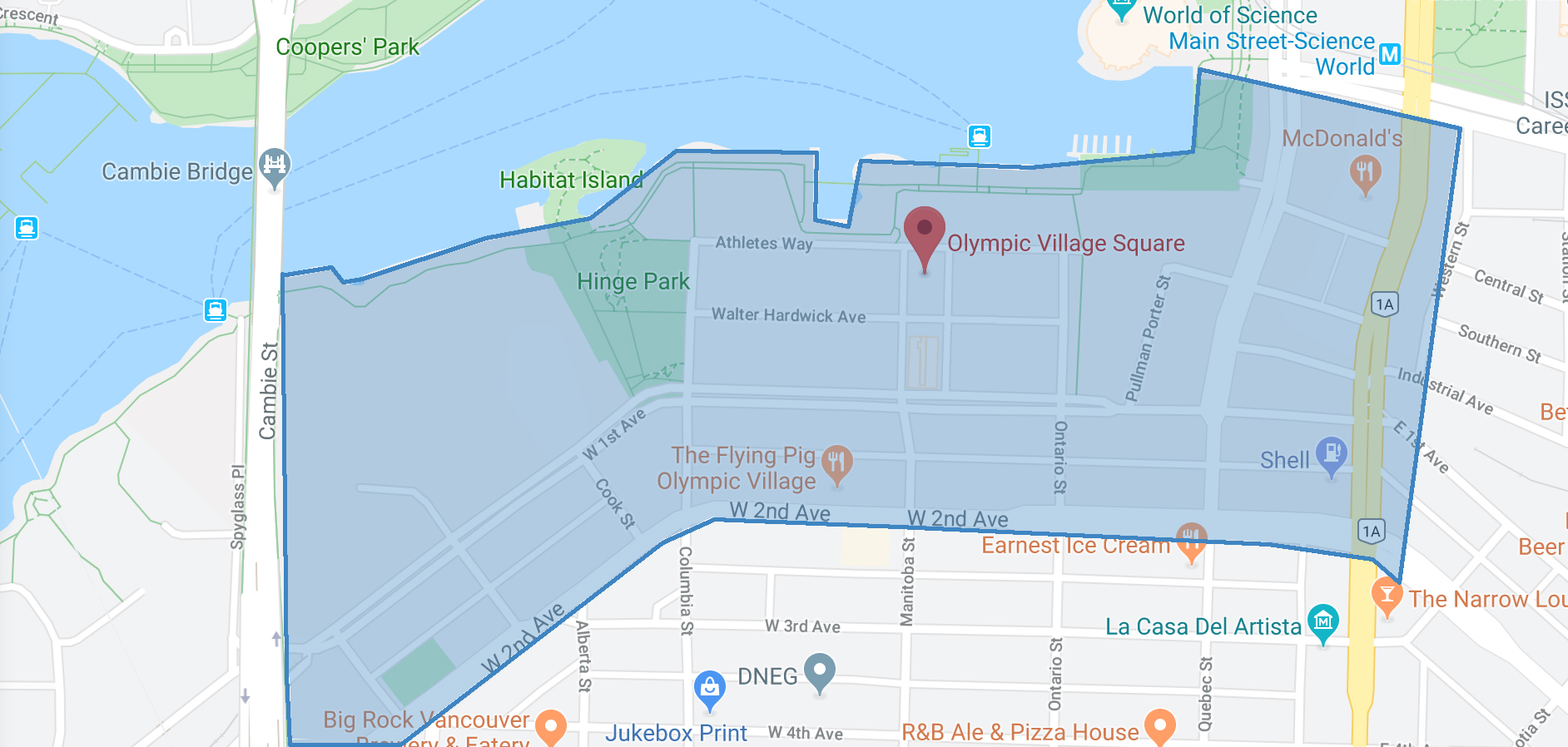 HAVE A QUESTION ABOUT OLYMPIC VILLAGE?
---
Reach out. We are here to help.
Customize Your Search and Get REAL-TIME MLS® Listing Access for new Olympic Village listings.
VancouverRealEstate.com offers VIP access - a service that speeds up and improves the process of looking at homes. We offer a +24 hour head start on other buyers when using our MLS® service. Simply create a FREE account and our system will begin to learn the properties that match your criteria and in real-time you will be notified of new listings. The future of real estate search is here.