Metrotown is the bustling urban core for the City of Burnaby.
With bragging rights to the 3rd largest mall in Canada, Metrotown's real estate is always in high demand. The area of Metrotown offers a vast selection of product from townhomes, new high and low-rise condo projects, and an abundance of luxury towers that cater to your every wim. With close proximity to Central Park, Metropolis, and other popular amenities it's easy to see why Metrotown is a popular choice for buyers looking for a bit of everything that downtown may offer - but at much more affordable price points.
The newer residential projects are part of a new community plan that will see exciting new projects for growing and enhancing the Arts in the City that also includes pedestrian greenways, public art installations and increased access to cafes and outdoor spaces. Metrotown is undergoing a remarkable transformation that will reinforce its' role as a premier residential, retail and office centre within the region and help realize the City of Burnaby's vision to create a sustainable and cosmopolitan urban centre for decades to come.
Metrotown Highlights
Over 55% of residents who live near Metrotown Skytrain Station commute to work by public transit.
Shopping! Metropolis at Metrotown is the 3rd largest mall in Canada.
Major transportation hub. Get anywhere FAST.
Trails and hiking at Central Park.
Tennis courts, outdoor swimming pool, pitch-and-putt golf course nearby.
Highschools: Burnaby South and Moscrop Secondary.
WHAT'S METROTOWN LIKE?
---
THE VIBE

Young Professionals

Urban

Foodies Delight

Shoppers Heaven

New Condos

PUBLIC TRANSIT

Bike Lanes

Bus

Highway 1

Skytrain

Metrotown Station

Patterson Station
96

Walkers Paradise

96

Transit Choices

96

Get a Helmet
WHERE IS METROTOWN?
---
MAP AND BOUNDARIES
Metrotown is the downtown of the City of Burnaby and is contained by Boundary Road on the west (including in Central Park), on the south by Imperial Street, on the east by Royal Oak Avenue, and on the north by a series of local streets (Thurston, Bond, Grange and Dover streets). The main commercial road for Metrotown is Kingsway and is paralleled to the south by the SkyTrain tracks running alongside Central Boulevard.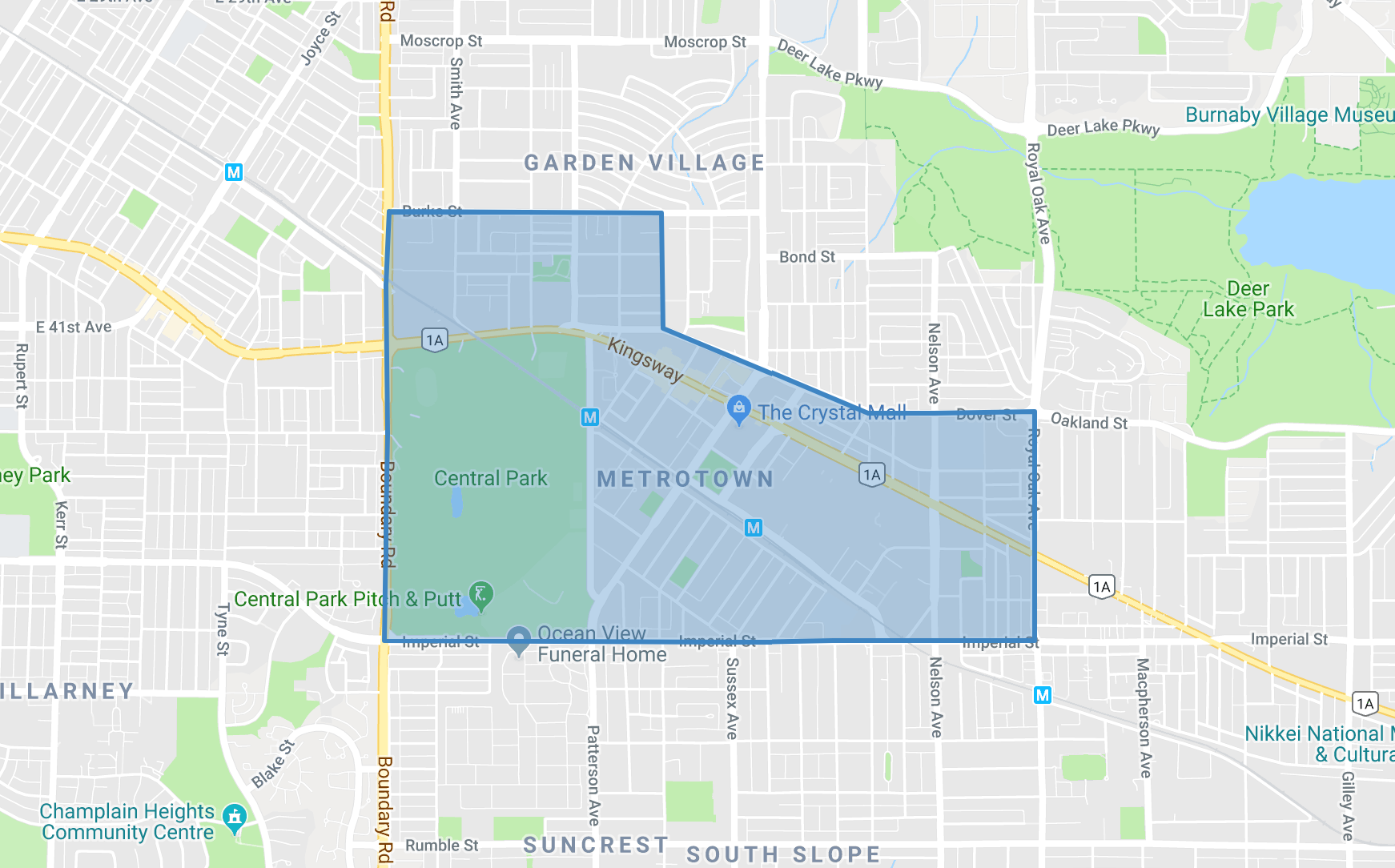 HAVE A QUESTION ABOUT METROTOWN?
---
Reach out. We are here to help.
Customize Your Search and Get REAL-TIME MLS® Listing Access for new Metrotown listings.
VancouverRealEstate.com offers VIP access - a service that speeds up and improves the process of looking at homes. We offer a +24 hour head start on other buyers when using our MLS® service. Simply create a FREE account and our system will begin to learn the properties that match your criteria and in real-time you will be notified of new listings. The future of real estate search is here.