Quaint Edgemont Village is a secret no more.
Edgemont Village is at the centre of a number of surrounding areas that include Forest Hills and Canyon Heights to the North and Delbrook to the East. Edgemont sits below the picturesque backdrop of Grouse Mountain and is easily accessable via Capilano Road and Highway 1. The Village as it's called by the locals, offers boutique shopping, new condo developments, and some fine luxury homes offering views of the city.
The commercial area of Edgemont Village, along its quant boulevard, is home to a number of community events such as the Summer Concert Series, Harvest Festival, Halloween Trick or Treating, as well as Christmas celebrations. Offering a great sense of community and pride among store owners as well as locals this once sleepy and secretive neighbourhood is now one of the most desirable places on the North Shore to live, and in recent years has seen the highest increase in property values in North Vancouver.
The early beginnings of Edgemont Village are still evident in some of the 1950's ranchers that still exist alongside brand new large craftsman-style and contemporary homes. Appealing to young professional families and empty nesters alike Edgemont offers more choice than ever before thanks to the well thought out commnity plan that has seen new high end low density developments take shape that offer townhome and condo living in the heart of the Village.
Edgemont Village is known for its relaxed lifestyle and natural charm.
Edgemont Village Highlights
Community pride and great sense of neighbourhood feel.
Boutique independent shopping - yes, it still exists!
Highway 1 is close by and downtown Vancouver is 35 minutes away by bus #246.
Famous Grouse Grind and trails along Mosquito Creek.
Newly constructed Delbrook Community Centre.
Schools: Highland Elementary and Handsworth Secondary.
Whistler is a 90 minute drive. Lower Lonsdale is 10 minutes away.
WHAT'S EDGEMONT VILLAGE LIKE?
---
THE VIBE

Young Professionals

Coffee Culture

Quant

Boutique Shopping

New Condos

Sense of Community

PUBLIC TRANSIT

Bike Lanes

Bus




Highway 1
95

Walkers Paradise

86

Transit Choices

86

Like Hills?
WHERE IS EDGEMONT VILLAGE?
---
MAP AND BOUNDARIES
North on Capilano Road and on the way to Grouse Mountain exists a quant neighbourhood located on a small natural plateau called Edgemont Village. Also accessed by West Queens Road by way of Westview and Lonsdale exits. Businesses are centred at the intersection of Edgemont and Highland Boulevards. Neighbourhoods in close proximity are Forest Hills, Canyon Heights to the North and Delbrook to the East.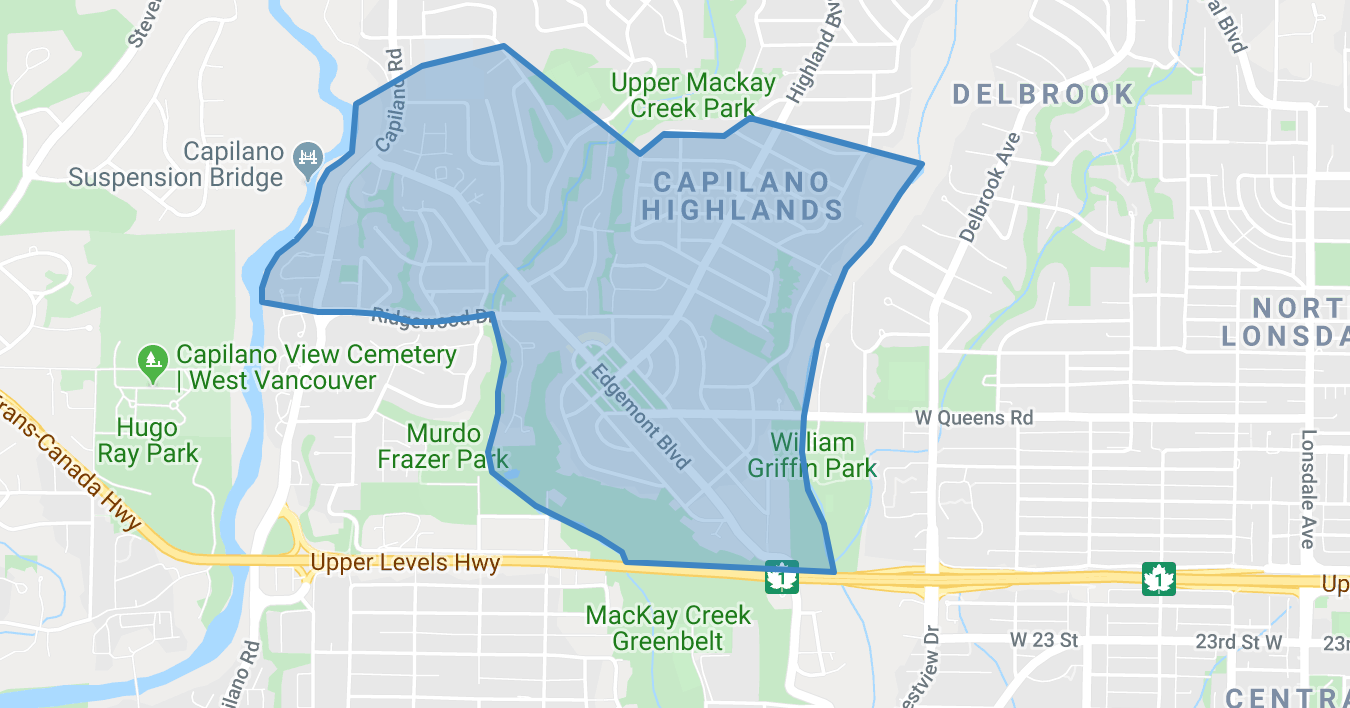 HAVE A QUESTION ABOUT EDGEMONT VILLAGE?
---
Reach out. We are here to help.
Customize Your Search and Get REAL-TIME MLS® Listing Access for new Edgemont Village listings.
VancouverRealEstate.com offers VIP access - a service that speeds up and improves the process of looking at homes. We offer a +24 hour head start on other buyers when using our MLS® service. Simply create a FREE account and our system will begin to learn the properties that match your criteria and in real-time you will be notified of new listings. The future of real estate search is here.
MARKET STATS - EDGEMONT VILLAGE
---
MLS Home Price Index (HPI) - HPI represent the price of a typical property within a specific market. Unlike averages or medians the HPI takes into consideration items such as lot size, age, number of rooms, etc. The HPI measures typical, pure price change (inflation or deflation). HPI provides a more precise picture of home price trends than the Consumer Price Index.