Coal Harbour.
Coal Harbour neighbourhood is home to Vancouver's most exclusive waterfront properties and is one of city's newest communities with most of the real estate developments being less than 10-12 years old. Ownership demographic consists of wealthy offshore owners, West Side and West Van boomers that have decided to down size, as well as young urban professionals who work in the downtown core. Summers are beautiful with an active seawall, busy parks and patios while winters offer cool, crisp days with stunning views of the snow capped North Shore mountains.
Expect to find luxury 1,2 and 3 bedrooms as well as in-demand luxury townhomes.
Although neighbouring Downtown offers everything a local would ever want, there is no need to travel outside of Coal Harbour as the area offers numerous five star restaurants, cafes, boutique independent shopping, as well as upscale supermarkets Urban Fare and Whole Foods that will satisfy all cravings.
Coal Harbour Highlights
Coal Harbour offers some of the most luxurious condos and penthouses in the city.
Walking distance to the Downtown business core.
Neighbouring Gastown offers seabus and Skytrain transit options.
Georgia Street access provides access out of the city.
Great sea wall leads to Stanley Park with views of North Shore mountains.
Multiple dining options including high end and casual.
Coal Harbour Community Centre.
Whole Foods and Urban Fare grocery options.
Vancouver Convention Centre.
Top hotels include Fairmont Pacific Rim, Loden Hotel, Pinnacle, Hyatt Regency and more.
Luxury High-rise luxury 1,2 and 3 bedroom homes + townhomes too.
Schools: Lord Roberts Elementary School and Lord Roberts Annex, King George Secondary School all closeby.
WHAT'S COAL HARBOUR LIKE?
---
THE VIBE

Urban Professionals

Luxury Condos

Green Space

Off-Shore Ownership

Stunning Seawall


TRANSIT OPTIONS

Skytrain + Seabus Nearby

Public Bus

Bike Routes




Pedestrian Friendly
95

Walkers Paradise

87

Transit Choices

86

Bike Lanes
WHERE IS COAL HARBOUR?
---
MAP AND BOUNDARIES
Coal Harbour is a neighbourhood that is part of the Downtown Vancouver core and is located West of Burrard Street and North of Georgia Street with the busy Vancouver harbour providing stunning views and a backdrop to the North Shore.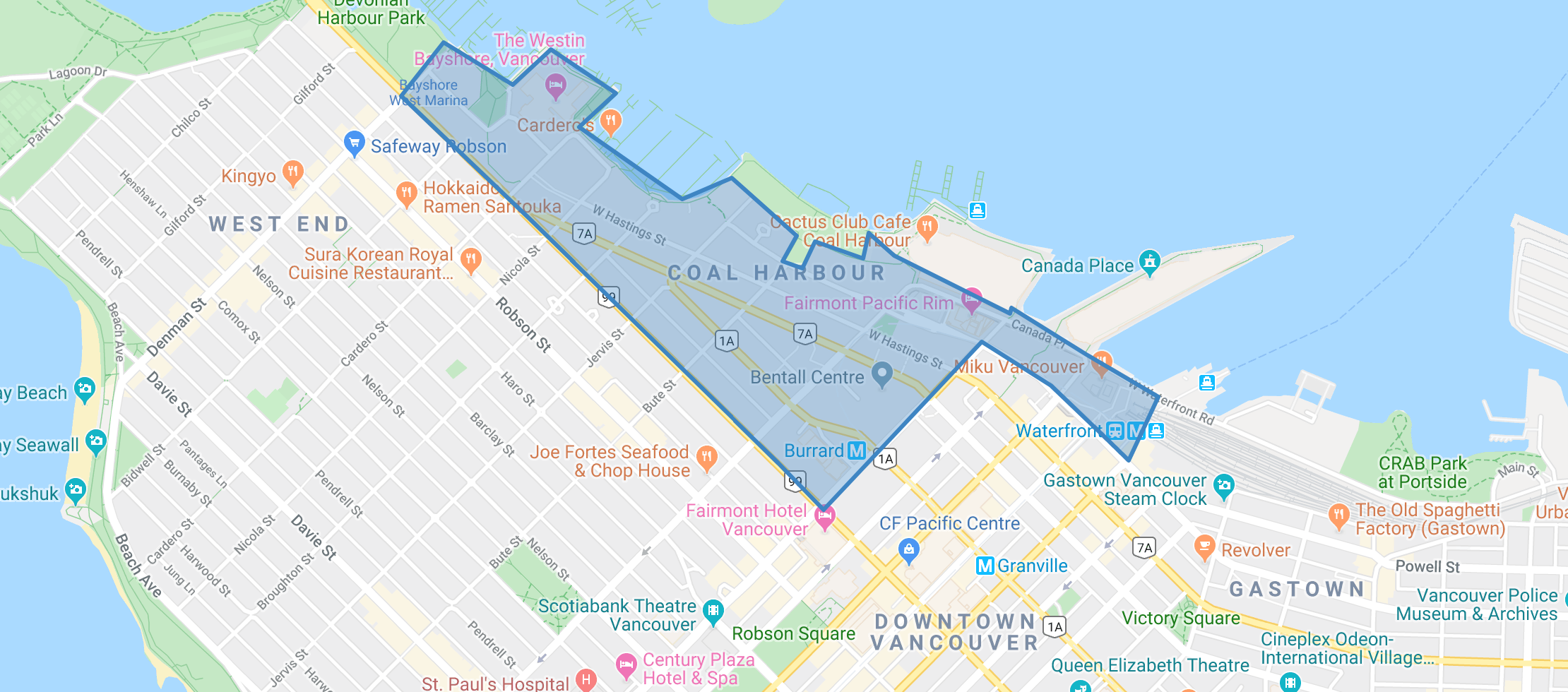 HAVE A QUESTION ABOUT COAL HARBOUR?
---
Reach out. We are here to help.
Customize Your Search and Get REAL-TIME MLS® Listing Access for new Coal Harbour listings.
VancouverRealEstate.com offers VIP access - a service that speeds up and improves the process of looking at homes. We offer a +24 hour head start on other buyers when using our MLS® service. Simply create a FREE account and our system will begin to learn the properties that match your criteria and in real-time you will be notified of new listings. The future of real estate search is here.