South Cambie.
Cambie is Vancouver's smallest neighbourhood in both population and size. Encompassing the area between Oak and Cambie and between West 16th and West 41st Avenue. Cambie's real estate is characterized by single-family two story homes, bungalows, and a number of heritage homes that were built in the 1910's and 1920's. Shoppers love the convenience of nearby Oakridge Centre or Cambie Village, which is also home to the Park Theatre. Queen Elizabeth Park and the Bloedel Conservatory are also major attractions for residents and tourists. In recent years, sales of single family homes have increased in Cambie which have attracted first time home buyers, young families and professionals.
The Canada Line Skytrain serves the entire Cambie neighbourhood which makes getting anywhere in the city quick and conveniant. Although most homes are single family dwellings built from the 1950's - 1980's the area is seeing a number of townhome developments as well as other more affordable housing options thanks to the growth and success of nearby Langara College.
Cambie Highlights
Canada Line station at the corner of 49th Avenue.
Langara Golf Course.
Boutique independent shopping.
Oakridge shopping centre in close proximity for the big experience.
Langara College is close by.
Plenty of nature and green space.
BC Women's and BC Children's Hospitals.
Very senior friendly with lots of medical services nearby.
Schools: Laurier Elementary, Dr. Anne B Jamieson Elementary and Sexsmith Elementary. Sir Winston Churchill Secondary, St. Andrews College and King David High School. École Rose-des-Vents and École secondaire Jules-Verne French schools.
Heritage homes from the 1910's and 1920's.
New townhome developments among the single family dwellings.
WHAT'S CAMBIE LIKE?
---
THE VIBE

Senior Friendly

Family Focused

Green Space

Boutique Shopping

New Condos

Parks

PUBLIC TRANSIT

Canada Line

Bus

Bike Routes

Oak and Cambie major corridors

95

Walkers Paradise

96

Transit Choices

97

Near Perfect
WHERE IS CAMBIE?
---
MAP AND BOUNDARIES
Cambie one of the smallest neighbourhoods in the city and occupies a narrow strip of land between the Queen Elizabeth Park and Vancouver's Little Mountain. Stretching from West 16th Avenue in the north to West 41st Avenue in the south and between the busy Oak and Cambie corridors.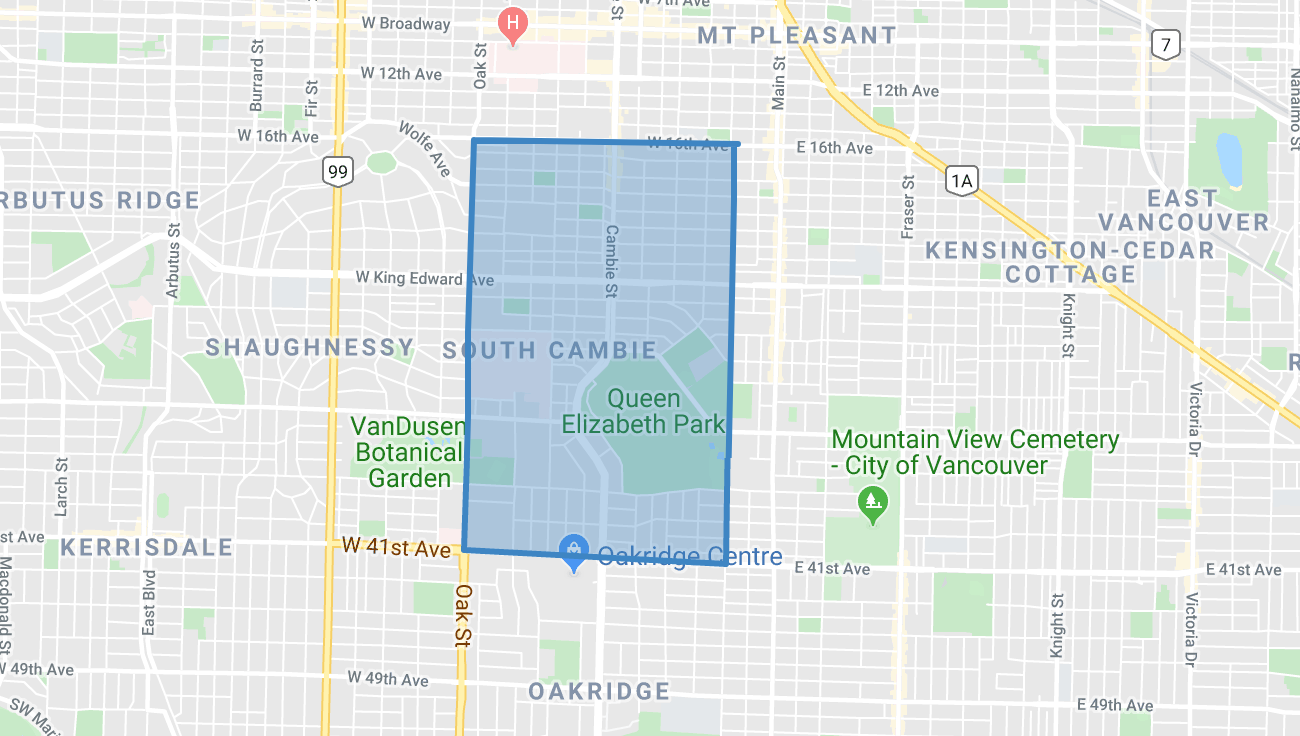 ---
Reach out. We are here to help.
Customize Your Search and Get REAL-TIME MLS® Listing Access for new Cambie listings.
VancouverRealEstate.com offers VIP access - a service that speeds up and improves the process of looking at homes. We offer a +24 hour head start on other buyers when using our MLS® service. Simply create a FREE account and our system will begin to learn the properties that match your criteria and in real-time you will be notified of new listings. The future of real estate search is here.