Vancouver Seawall
Posted by K Milley on Wednesday, September 18, 2019 at 7:54 AM
By K Milley / September 18, 2019
Comment
Vancouver's Seaside Greenway is the world's longest uninterrupted waterfront path. Stretching 24 kilometers in total, stretching from Canada Place to Granville Island and includes the world famous Stanley Park Seawall. It is a fantastic way to spend the day in Vancouver as you skirt around the the city's downtown and enjoy some fresh and experience the dramatic topography of B.C's coastline. Along the way you will experience the breathtaking views that give Vancouver it's continuous top 5 ranking of one of the best places to live in the world. If you're in Vancouver and not sure where to get started, this is a great way to orient yourself and get a taste of what the city has to offer. Along the way there are great jump off opportunities to grab a bite, a gelato, or an espresso before continuing slong your way. Or if you spent a little too long on a patio in the Summer, then simply take one of the many small ferries in and around False Creek to get you home a bit quicker.
Cycling
The Seawall, as it's most commonly called, takes about one hour to cycle in total, and there is no need to pedal too fast. The path is one-way in some parts, but it's shared between cyclists, roller-bladers, and pedestrians of all fitness levels, so it's best to exercise a bit of caution. Rental Bikes are available near Canada Place as well as on Denman Street, near Georgia. (If you're stumped, try Spokes on 1798 West Georgia Street.)
Pay attention to the markings on the pavement as the path is separated into two lanes: one lane for cyclists and roller-bladers, and one lane for pedestrians. If your mind wanders and you get distracted by the surrounding beauty - don't worry, someone will quickly remind you to stay in your lane. In some places there are cycle lanes going both ways, and there are some places where bicycles are not allowed. You can get away with some light rule-bending, but be aware of what the other road users are doing for everyone's safety. A ring on a bike bell means that someone behind you wants to pass so move over to the right and let them pass you on your left.

Beaches
Stanley Park has several sandy beaches, each with a unique character. If you're looking to relax and listen to the sound of the waves, Third Beach is the least busy of the three. Second Beach is a little busier, but it has a pool, which is a good alternative when the water of English Bay is too cold or too rough for a swim. The beach at English Bay is the busiest, as it's the most accessible from Beach Avenue and visible from the road so it collects a lot of pedestrians in and around the area that just want to check it out. English Bay is probably the best place to buy ice cream, people watch, grab a bite, and grab a drink and watch the sunset. If you're looking for a place for a picnic, however, Sunset Beach Park offers nice shady areas to spread out a blanket. No matter which spot you pick, all three beaches tout amazing views of English Bay!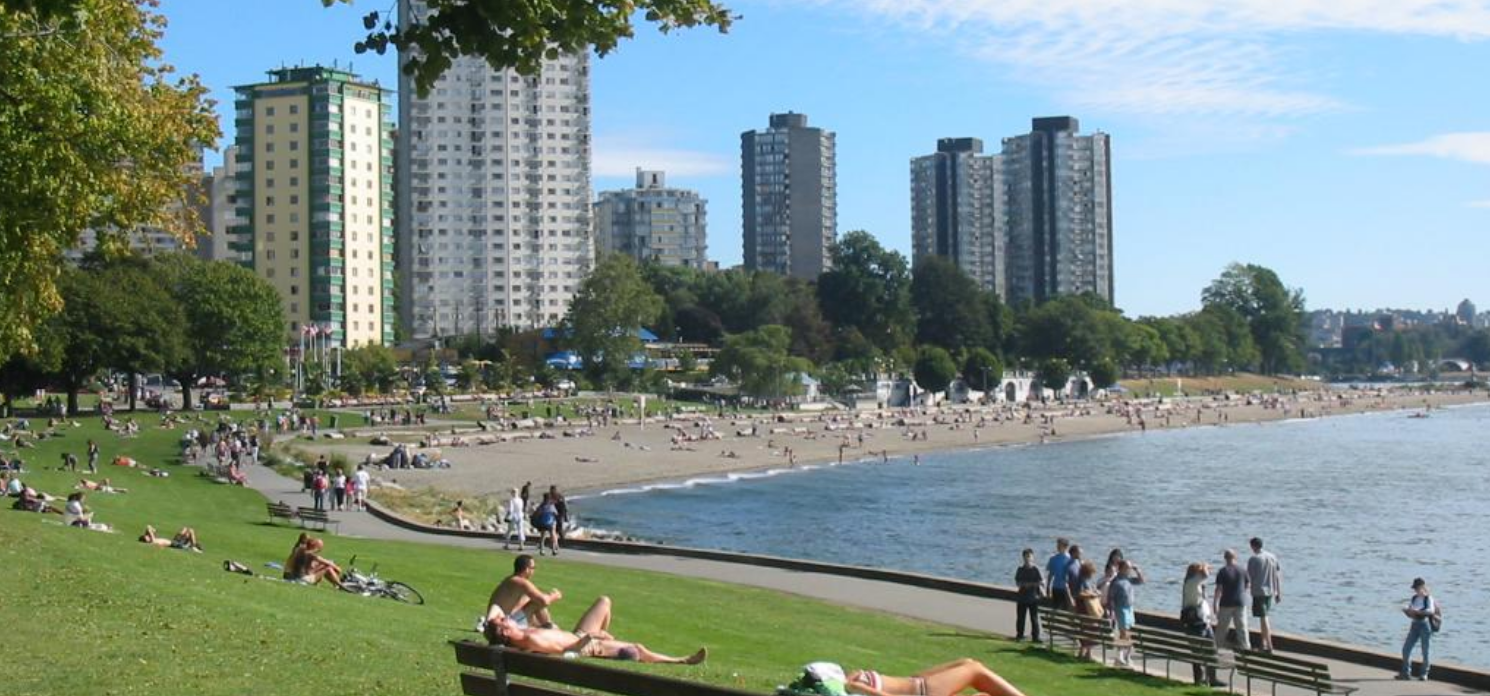 Restaurants and Bars
There is a plethera of restaurants and bars on Denman Street. Near the junction of Denman and Beach Ave. you will find the Cactus Club Cafe as well as the Hook, which serves some of the best veggie burgers in Vancouver. Traveling further up Denman look to cool down and beat the summer heat with D'oro Gelato, serving high quality gelato made in the traditional style. For expeditions a bit earlier in the day, the Stanley Park Teahouse never disappoints. Try their brunch, which features some interesting seafood options alongside more traditional fare.
Tourist Attractions
Stanley park is full of excellent photo-ops. The totem poles, for example, which were bought from various West-Coast first nations are a popular choice, an example of artistic traditions that can be found nowhere else in the world. Adjacent to the totem poles is the Vancouver Aquarium, where over 320 marine, freshwater, and amphibious species can be seen and, in some exhibits, interacted with. At the other end of the Seawall, visit the Telus World of Science, an attraction especially interesting to children, but not exclusively. Inside can be found an Omnimax theater where educational films are shown in 3D.
Whatever you choose to do there is 24km of incredible walking and biking trails for you to enjoy. Create your own hop-on hop-off tour the Vancouver way.
Thinking about a pied-à-terre in Vancouver? We can help make it a reality!
Fill out the form below and let's get started.