Vancouver housing market continues to crash
Posted by K Milley on Thursday, November 9, 2017 at 7:07 PM
By K Milley / November 9, 2017
Comment
Regardless of what year it is we need to look at articles that compare two different markets, with a grain of salt. Vancouver vs. Toronto housing market comparison is always a popular media headline.
A recent article from the Vancouver Sun reports that January home sales are down in metro Vancouver while Toronto sales continue to march on. The report states that Toronto sales are up 11.8% compared from January 2016. In comparison Metro Vancouver saw home sales drop by 39.5 per cent year-over-year.
The Sky is Falling
Well, that's what we are lead to believe but let's take a closer look. Vancouver homes sales were starting to flatten before the provincial government announced the 15% foreign buyer tax in August. Many media outlets like to blame this new tax as the sole reason for Vancouver's softer market that we are currently realizing but this is simply not the case. It is an issue and one that saw many offshore buyers pull out of the market it's only one of many issues that affect the local housing markets.
Vancouver vs. Toronto
Comparing the Toronto and Vancouver housing markets seem like a reasonable thing to do as both cities are large and have international appeal but what all reports seem to neglect is that the Vancouver market has consistently outpaced the Toronto markets. Why? One reason is that downtown Vancouver has a significant land shortage when compared to its' colder and older cousin back East. Vancouver is a much smaller city than Toronto and as such the business districts in both cities are vastly different. Development in Vancouver's downtown core has been encroaching the business district for well over a decade now, so much so, that local Vancouver developers have actually opened operations in Toronto to mimic the same sort of development (and profits).
With water all around, Vancouver's downtown is pretty much land locked and if I recall anything from my economics class it's that price is a function of supply and demand. When you compare Vancouver and Toronto with this metric you can't have two more vastly different geographies. Although Toronto may outpace the Vancouver markets at times it is Vancouver's scarcity of land that is a major reason that home values will continue to by higher than those in Toronto and until the issue of density is addressed we will continue to see this trend and the media will continue to sell us on the idea that the sky is falling in Vancouver.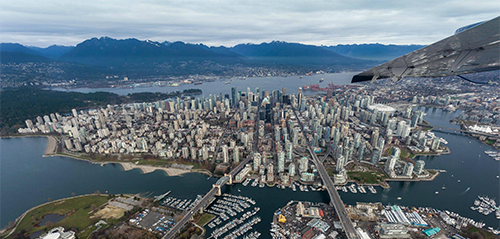 The article finishes off with a simple fact that reiterates the comments above: "The MLS composite benchmark price for all types of homes in the GTA was $681,400. In Metro Vancouver, it was $896,000."
Put another way, the Toronto market is outpacing the Vancouver housing market based on the simple fact that it is more affordable. 31.5% more affordable!