Tips and Advice - carpet cleaning
Posted by K Milley on Thursday, October 3, 2019 at 8:01 AM
By K Milley / October 3, 2019
Comment
From the walls, floor and ceiling, cleanliness is key to creating a visually appealing home. Home owners are always asking what they should be doing in order to prepare their home for sale. My response is the age old adage of you only get one chance to make a first impression. Let's face it, home staging is a luxury of time that most busy households simply don't have enough of - especially a household with kids and a pet running around. There is a long list of simple and affordable things that a home owner can do in order to maximize the liklihood of hooking an interested buyer.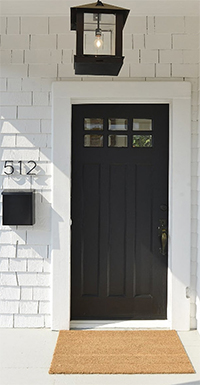 At the end of the day, a clean, uncluttered, and well kept home will tell a potential buyer that you have cared for your home. Let's face it, you wouldn't sell your car without clearing out old coffee cups and dirty napkins, and the same should apply to your home - on a much grander scale of course! Starting from the outside take an objective eye and see what a buyer would see. Is your grass too long? Are your gutters straight - or are they damaged and leaking? Walking toward your home, what else do you see? Could your front door be repainted? Well, it may be a good idea!
A major US real estate portal conducted a paint color analysis in 2018 that looked at over 135,000 images of homes that sold around the country between January 2010 and May 2018 and compared how certain paint colors impacted their sale prices on average.
The result: homes with front doors painted charcoal, smoky black or a rich jet black sell for $6,271 more than expected.
Now that we have your attention, you can begin to see how small and well thought out weekend projects can really help you sell your home at the highest possible price, and at the very least, help your home stand out among comparative homes in your neighourhood. Looking inside your home the first thing a potential buyer will notice are the floors. What type of flooring is it, is it clean and does it need replacing. Don't overdue it otherwise it will look like you're trying to hide something, but well placed carpet runners or an area rug can add a warming element to a room and tie everything together. Over the years we have seen a resurgence of the use of carpeting, especially in master bedrooms or the top floor of a home. Warm on the feet and cozy for the soul, carpet can look fantastic in certain areas of a home, but it needs to be clean. Carpet fibers grab hold of odours, pet urine, and can easily throw off a prosepctive buyer if stains are visible or there is heavy discouration in areas. Let's talk about some options for getting that carpet in the best possible shape.
Option 1: Rent a Steam Cleaner
The steam-cleaning option is an excellent low-cost and effective way of doing it yourself. The way a steam cleaner works is by conditioning the carpet with a chemical reagent which teases out any oily, sticky substances, followed by a rinse of pressurized steam. The benefit is of steam cleaners is that they generally have spin-brush fixtures which help to ensure the deeper fibers in the carpet are thoroughly cleaned, whereas a vacuum would not be able to replicate the ideal motion and wouldn't get deep enough. Nowadays there are plenty of green options so you don't have to be soaking your carpet with obnoxious and potentially harmful chemicals. Once cleaned you will need to practice a lot of patience as it will take some time for your carepts to be fully time - several hours, to more than a day, before the carpet is ready to be used again.

Option 2: Apply a Powder
Another approach that falls in the DIY carpet cleaning category, which leaves the carpet ready to use instantly after application, is carpet powder. After letting the powder, sit for a few minutes, it can be vacuumed up along with all of the dirt and oil that has accumulated in the carpet! The downside - the powder can only reach the top layers of carpet so deep stains may not be removed on the first try. Also, the powder may be too harsh for delicate oriental or antique rugs. This method may be cheap and fast, but the toxicity of the store-bought cleansers should be considered before making a purchase. Depending on the age or the pile height of your carpet this may not be as of a concern.
Option 3: Hiring a Professional
Always the best route. Always the most expensive. If both of the above options seem like too much work, or not worth the results - reach out to the professionals. They will have your carpets cleaned quickly and often times (ask for it) will leave large fans to help circulate air to help speed up the drying process. In addition to getting top results quicker, professional carpet cleaners can move your lighter furniture around to maximize the amount of carpet space that gets cleaned.
Tip: Declutter first. Get rid of your grandfather's well used La-Z-Boy chair in the living room and 'stage' the capreted areas as best you can.
For the right advice always talk to a Realtor® before beginning any fixes or changes to your home.