Laneway Housing Vancouver's Density Solution
Posted by K Milley on Sunday, March 3, 2019 at 11:02 AM
By K Milley / March 3, 2019
Comment
What is Laneway Housing?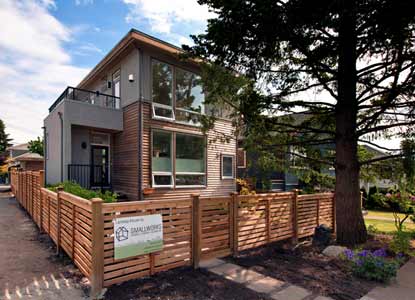 A laneway home is a small house built on an existing property. And they're popping up everywhere. The city of Vancouver has issued over 1000 laneway housing permits since 2009, and thanks to the recent eco-density program which allows laneway homes to be built on most qualifying lots, companies like SmallWorks are beginning construction on laneway homes at a rate of one every sixteen days. The City North Vancouver calls them Coach Houses, as does Surrey. In Coquitlam they're called Carriage Houses, while in Pitt Meadows, Maple Ridge and Port Moody they're called Garden Suites. Call them what you will, the general principle is the same: a detached secondary suite usually located at the rear of an existing lot, behind the existing principal residence, which is smaller in size, complements the main residence, and incorporates sustainable design. The most prevailing terminology is Laneway Housing. Laneway, because the small home or structure is located in the back yard and opens onto the back lane, as is the case in Vancouver. Although the rules vary from City to City the average size of a laneway home is a highly efficient 500 square feet and includes a bedroom, bathroom, kitchen, living area, and one parking spot.
Why the popularity?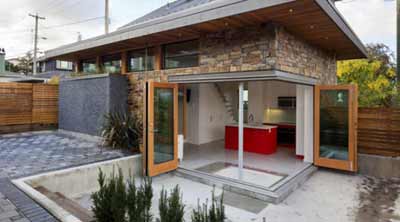 The city recognizes the challenges residents face in providing liveable spaces to support family members. Laneway housing offers an innovative solution to Vancouver's housing crisis while maintaining the streetscape, character and appeal of the City's neighbourhoods. Laneway housing appeals to a wide demographic and offer many benefits. It allows younger families an opportunity to afford living in a neighbourhood that they would typically be priced out of - thereby denying the previous trend of moving to the suburbs for the sake of affordability. It allows an aging population an additional and affordable housing option, close to their adult children and their families. It allows parents to provide housing for their kids, all the while keeping a watchful eye. Without laneway housing the alternative density solution would be to allow multi-dwelling developments which would clearly change the look and feel some of Vancouver's most beloved neighbourhoods. In addition to providing a source of secondary income for owners the benefits of laneway housing is long.
provides a great solution for families who need more space to meet their specific needs for family living,
provides an increased amount of affordable housing as well as the variety of housing available without the need for government funding,
offers affordable solution for new residents,
offers multigenerational living spaces,
limits sprawl by providing an urban density solution,
addresses urban density while preserving established character of neighbourhoods.
As a way to preserve neighbourhood charm and provide an alternative living solution to its aging population even communities like West Vancouver are getting in on the action. For more information on laneway housing or to talk to a laneway housing specialist give VancouverRealEstate.com a call at 604 234 1000, or send us an email.