Five mistakes home buyers always make
Posted by K Milley on Thursday, February 22, 2018 at 10:21 AM
By K Milley / February 22, 2018
Comment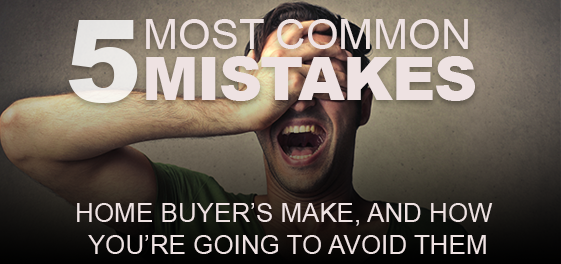 A quick glance at the current real estate landscape in Metro Vancouver reveals that it is without a doubt a seller's market right now and has been for quite for some time. Currently detached home sales have waned somewhat and the attached market of condos and townhomes have more than picked up the slack with a whopping 60.4 per cent and 42.3 per cent sales-to-active ration respectively. This may sound grim for those trying to get into a new home, but there are obstacles you can navigate around to help make the process go a little bit smoother. The following are five mistakes that home buyers typically make. Hopefully with this knowledge your next decision will be on choosing a moving company to help you move into your new home.
Being too desperate
Even if people are seemingly snapping up properties left and right, that's no reason to make an impulse decision and close the deal on a property you either don't truly love, or aren't able to afford. Unlike a pair of shoes or a piece of electronic equipment, buyer's remorse comes at a much higher price here. There will always be other opportunities on the horizon, and each listing visited paints a better picture of what you do or don't want. At times it will seem as though that you are the only one missing out but this simply is not the case. Be smart, be strategic and most importantly be patient.
Waffling
Just as being desperate is not advisable while shopping for a property, neither is being indecisive. Once the work has been done — nailing down the type, location and price — as soon as an example pops up that ticks off all the boxes, don't hesitate. Even if a property doesn't look like it's the right fit you'd be amazed at what you learn by viewing homes that don't quite tick ALL the boxes. By working closely with your Realtor® you can gauge listing prices on homes that you have walked through and by comparing their sold prices you will be better able to judge and execute on a home that is more inline with your criteria. Improve your chances of success by having the mortgage pre-approval and down payment ready to go. Have as much as possible lined up, including an idea of the turn-around time for an inspector, bank appraisal, etc. Ask your Realtor® to plan out a bullet proof action plan so you can hit the ground running.
Not utilizing a (reputable) real estate agent
With homes selling fast and furiously, retaining the services of an experienced real estate agent. Always work with a Realtor® that specializes in what in the neighbourhood that you are looking to buy. A well informed local area Agent can make all the difference in writing a successful offer which will give you a leg up on the competition. Local Agents know the area. They know how far it is to the nearest coffee shop, what school catchment your kids will be in, where the best groceries and produce are to be found, what new developments or changes may be happening in the area that may affect the future value, or enjoyment, or privacy of your new home. A good Agent also knows what is coming to market which is invaluable information in any market. Needing to find a great real estate agent in Vancouver? Use our Find an agent link where we match awesome local Agents with your needs.
Making a weak offer
Although we mentioned overextending is never a wise move, at the same time, if you've found your dream home, show determination and follow through — particularly when there are other buyers at the table. Determine a comfortable maximum figure and put it forward. The last thing you want to do is think that an extra $5000 would have made the difference. It's not all about price though. With a little detective work have your Realtor find out what the sellers are also looking for. Aside from realizing top dollar would specific closing dates enable the seller to have a smoother transition? If so, the cost savings for the seller could excede $5000 and with that little bit of inside knowledge you have now created an advantage over other offers without being the top offer. There are many small things that amount to a considerable difference that can be done when writing an offer on a property. As long as your offer is strong, and perhaps not the highest, you can often times win by offering the most attractive offer by including better closing dates, having a pre-inspection done of the property, bumping the deposit a little higher, having a draft in the amount of the deposit photocopied and shown with the offer to signal you are more than willing and able to close on the purchase.
Ignoring history
Like dating, getting rejected doesn't leave a great feeling. However, a seller declining your offer isn't the end of the world. Think of how you could have made your offer a bit stronger? Perhaps you are simply expecting too much and need to lower your top threshold? When homes are selling considerably over the asking price it can quickly get frustrating putting offers on properties that are already at the top of your budget. Look at ways you van get creative and have a long look at your priorities and if needed, re-evaluate based on the market conditions. Happy hunting. Thinking of flipping your Vancouver house for a quick profit? Well, you better read our article on common flipping mistakes buyer's make then.