Exploring Port Royal
Posted by K Milley on Sunday, October 20, 2019 at 9:10 AM
By K Milley / October 20, 2019
Comment
Queensborough: New West's Island Community
Overlooking the Fraser River from the NorthEastern tip of Lulu Island is Queensborough, New Westminster's Southernmost community. Characterized by scenic walking trails and spectacular views of the water. Queensborough, or more specifically Port Royal, is a quant hidden of a jewel that is about to be the hottest neighbourhood in Greater Vancouver.
Housing options in Queensborough are diverse as the community has experienced an uptick in development of late thanks to local housing initiatives. This traditionally rural and industrial area now boasts several gorgeous master-planned communities alongside registered heritage buildings. At the north end of Queensborough is Port Royal - the rapidly changing waterfront area that is about to be the talk of the town as it expands on its' community plan. Once the Q2Q bridge completes this hidden neighbourhood will see an influx of new buyers scrambling to get in on the cool factor of the neighbourhood. The Q2Q bridge will link Port Royal with New Westminster's Quay across the north arm of the Fraser River. The bridge will serve pedestrians and cyclists and is set to be completed by 2020.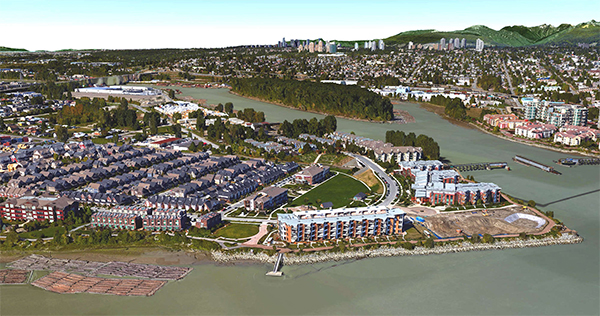 Like other previously industrial neighbourhoods being re-purposed for residential life, Queensborough's population is booming. In fact, it's growing at twice the rate of the rest of New Westminster and is expected to double by 2041. Positioned to accommodate the needs of this large influx of new residents is Queensborough Landing's retail centre which is a large outdoor shopping mall that is currently home to 67 outlets and restaurants. If shopping needs can't be satisfied here, the 410 bus can get passengers to the 22nd Street Skytrain station in under ten minutes, and off to Metrotown in half an hour, or Downtown in forty minutes.
There is no better time to live along the Fraser River.
Call us to view some incredible new developments in Queensborough's Port Royal neighbourhood.