Exploring Marpole and Southwest Marine
Posted by K Milley on Thursday, October 17, 2019 at 1:40 PM
By K Milley / October 17, 2019
Comment
Exploring Marpole and Southwest Marine
Tucked away on the Southern end of Vancouver proper are the charming residential neighborhoods of Marpole and Southwest Marine. More specifically the boundaries are Park Drive to the north, Granville Street to the west, Main Street to the east and the Fraser River to the south.
Property lots in these neighbourhoods are generally large, with tree-filled yards and grand, elegant houses. Plenty of parks make the area appear lush, green, and beautiful year-round, and many residents of the area take up golf as their pastime, as two of the Lower Mainland's most beautiful golf courses are situated right next door: McCleery Golf Course and Marine Drive Golf Club. The abundance of greenspace in this part of town promotes an environment of healthy living and spending time outdoors, great for people who enjoy running, cycling, and walking. A fabulous area to be a dog owner!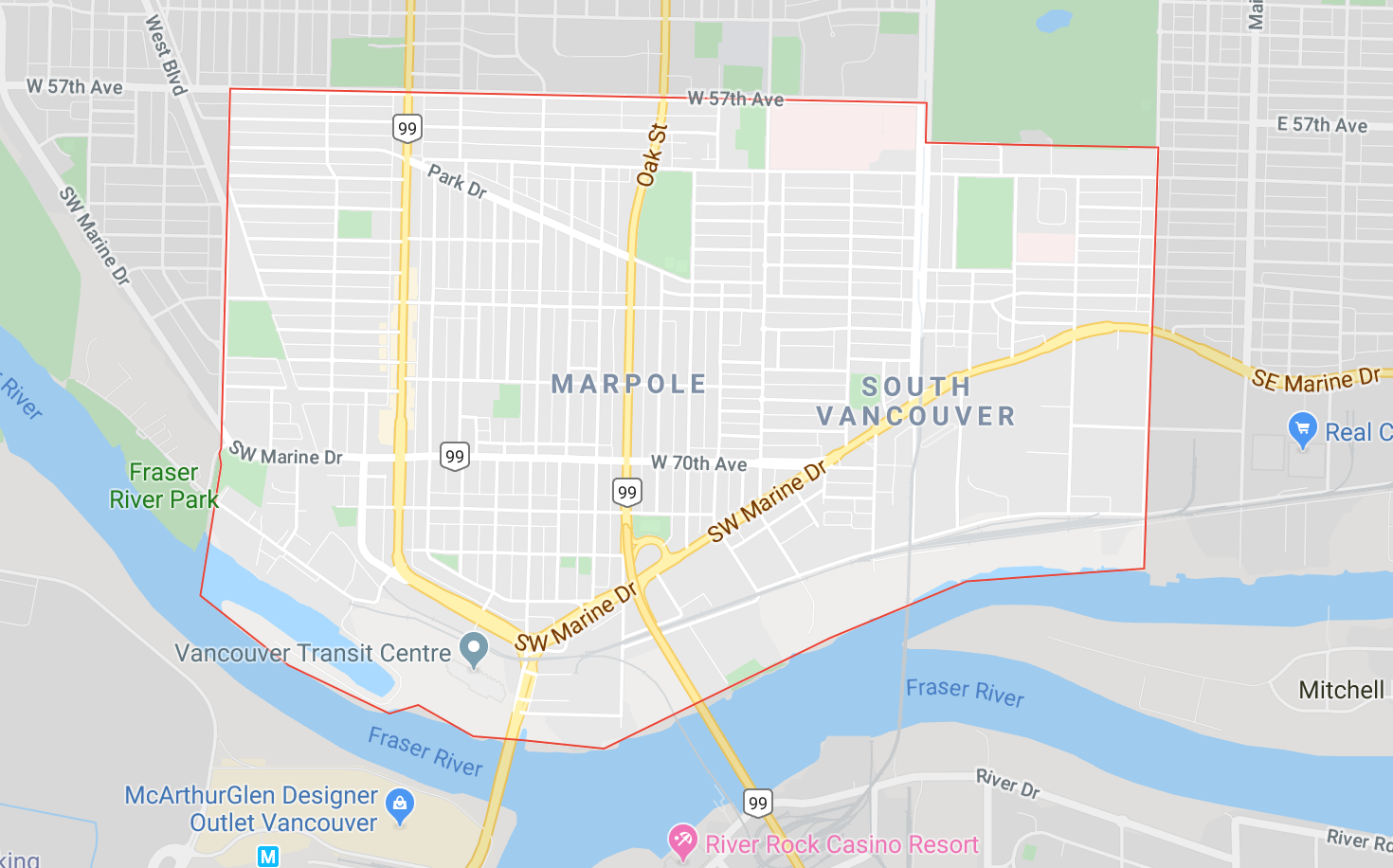 Marpole and Southwest Marine are well served by public transit, with Marine Drive Skytrain Station rushing passengers between Richmond and Downtown in the blink of an eye, and Marine Drive itself being a major bus route on the way to the University of British Columbia. Despite this, it's not terribly congested, as the area is neither a major business nor shopping centre. Granville Street does provide some shopping to the area in the form of some small neighborhood coffee bars, groceries, and Liquor Store, and Marine Gateway Town Centre in Marpole adds a T&T, Winners, Shoppers Drug Mart and several banks and restaurants.
Of the two, the character of Marpole is more conducive to community involvement. Besides golf, residents have the option to join the Marpole Soccer, Baseball, and Curling Clubs, as well as take part in various activities offered by the Marpole-Oakridge Community Centre. The neighborhood Business Improvement Association is very active as well, updating residents on events and business openings in the Marpole commercial area. Membership is automatic for local businesses, but auxiliary membership is open as well to community groups who are interested in participating in the Associations events and meetings.
Schools in Marpole
Marpole offers lots of choice in the education department. Laurier Elementary and McKechnie Elementary offer the educational the younger grades and Sir Winston Churchill Secondary School caters to the highschool grades. For Independent schools there is the Vancouver Hebrew Academy, Glen Eden School, St. Anthony of Padua school and the Daisy Academy Montessori School.
Did you know we have Realtors® that specialize in Southwest Marine and Marpole!