Vacant home? Owners need to be careful
Posted by K Milley on Wednesday, October 2, 2019 at 8:35 AM
By K Milley / October 2, 2019
Comment
Caveats of Absentee Ownership
Buying real estate in Vancouver is a great investment. However unoccupied homes are facing greater scrutiny with Vancouver's Empty Home Tax and keeping a property unoccupied has always come with a pretty hefty set of risks that a homeowner needs to be aware of.
Aside from the tax implications, let's discuss some of the larger issues that a home owner who wishes to leave their home unoccupied should be thinking about.
Theft and Squatters
The most obvious problem to do with leaving your home unoccupied is vulnerability to break-ins. Thieves can take anything as large as appliances, and squatters may make a cozy home of your empty house. Although, thankfully, claims to land title via adverse possession (squatters' rights) are no longer recognized in BC, unwanted guests in your home can cause damage and mischief, and steps to prevent their entry are definelty worth the cost.
To ensure that strangers do not believe your house is empty, you can employ techniques such as leaving lights on, asking neighbours to park in your driveway, and making sure that hedges are neatly trimmed and the lawn is kept in a condition that doesn't make it stand out from neighbouring homes. This will also increase the visibility of the house, and deter thieves from breaking-in as they know they can clearly be seen by your neighbours.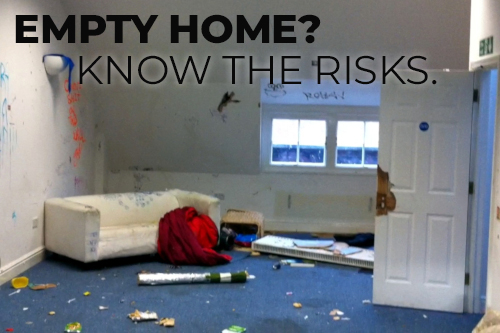 Insurance
There is a reason that insurance companies charge a higher fee to insure an unoccupied or empty home. It may seem cheaper or less of a hassle not to rent out your space, given the lack of trust in tenants, the cost of rental insurance, finding good tenants, dealing with rental agreements etc, but leaving your property unoccupied actually makes it more prone to damage and theft.
In any case, it's absolutely necessary to advise your insurance provider that the property is unoccupied, even for just a week, otherwise the insurer will not be required to pay your claim in the event of damage or disaster.
Weather, Fire, and Insect Damage
We've all heard horror stories about monster tenants that leave a rental property with holes in the walls, water-logged floors, and mysterious smells. It's true that many people do not respect their living space and may not keep your property as clean as you would like, but even less-than-ideal tenants come with the benefit that they are required to advise you of any damage to your property; otherwise, they might be held responsible for the cost of repairs. An vacant home is vulnerable to damage of more severity simply because the issue is not caught early enough to mitigate damage. Often times it's the neighbour that caught the leak because flooding has now effected their home. So instead of a small water issue you now have an enormous water ingress issue on your home as well as your neighbours!
Think twice if you decide to leave your home vacant and make sure you have plans in place to have your neighbour or someone you trust to visit the home and check that there are no issues that may affect your insurance or the value of your investment.
---
TIP! Don't forget to declare your homes vacancy status! Properties deemed empty will be subject to a tax of 1% of the property's assessed taxable value.
Most homes in Vancouver will not be subject to the tax, as it does not apply to principal residences or homes rented for at least six months of the year; however, all homeowners are required to submit a declaration.
---
Your VancouverRealEstate Agent will have specific knowledge of the different vacancy rules and the associated taxes and how they differ across Greater Vancouver.