Discovering Vancouver's West End
Posted by K Milley on Friday, May 4, 2018 at 11:44 AM
By K Milley / May 4, 2018
Comment
A closer look at West End
Situated next to Vancouver's downtown and financial district, the West End is home to about 40,000 people living in tall condominium towers. It's bordered by water, located on the edges of Stanley Park's Lost Lagoon, Coal Harbour and English Bay. It's also right next to Granville Street and the luxury shopping area of Robson Street and the recently redeveloped Alberni Street. Let's take a deeper look at several sections that make up the West End.
Outdoor Activities
The beaches and parks are an attractive draw to the area and it's very common to find cyclists everywhere. Stanley Park is a world-renown destination. Established in 1888, it is the third largest urban park in North America. Visiting and don't have a bike? No worries, there are eight bike shops that make a sunset ride along the 8.8km seawall possible. And the bike lanes in and around the area make this a family friendly excursion. As you go around the seawall, you'll see the iconic Inukshuk statue, known as the logo for the 2010 Olympic Games.
Outdoor Entertainment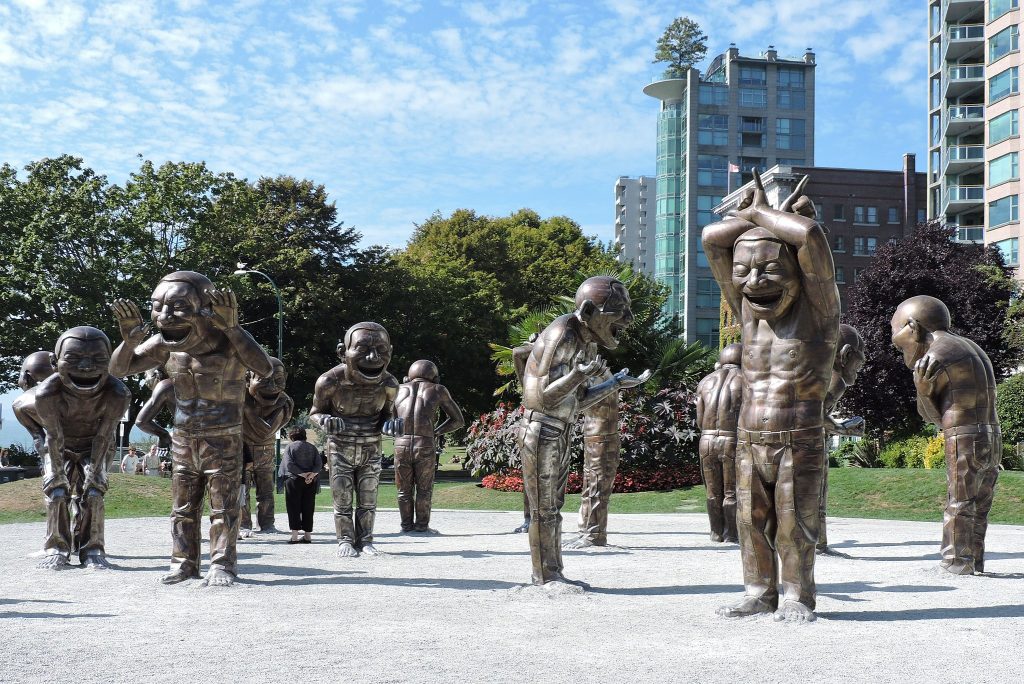 During the summer, the park's Second Beach plays host to 8,000 for the EVO Summer Cinema Series, an outdoor cinema night on Tuesdays. Movies start at dusk and range from classics to more current fare. It's family friendly and there is no cost to attend but you can purchase VIP packages that include food and reserved seating. Feeling a bit more adventurous and want to be on the water? Two other popular activities are kayaking and paddle boarding. You can rent both at English Bay. While you're visiting, you'll want to take a look at the A-maze-ing Laughter cast-iron statues by Yue Minjun. Vancouver's annual Polar Bear Swim is held here on New Year's Day. Over 2,000 brave souls jump in the bracingly cold waters.
LGBTQ Friendly Community
Famous for being trendy and pride-friendly, Davie Village is home to the biggest gay nightclubs in Vancouver, Celebrities and Numbers. It is also home to numerous community events, such as the annual Honda Celebration of Light, which draws crowds of about 400,000 as the world's largest waterfront fireworks.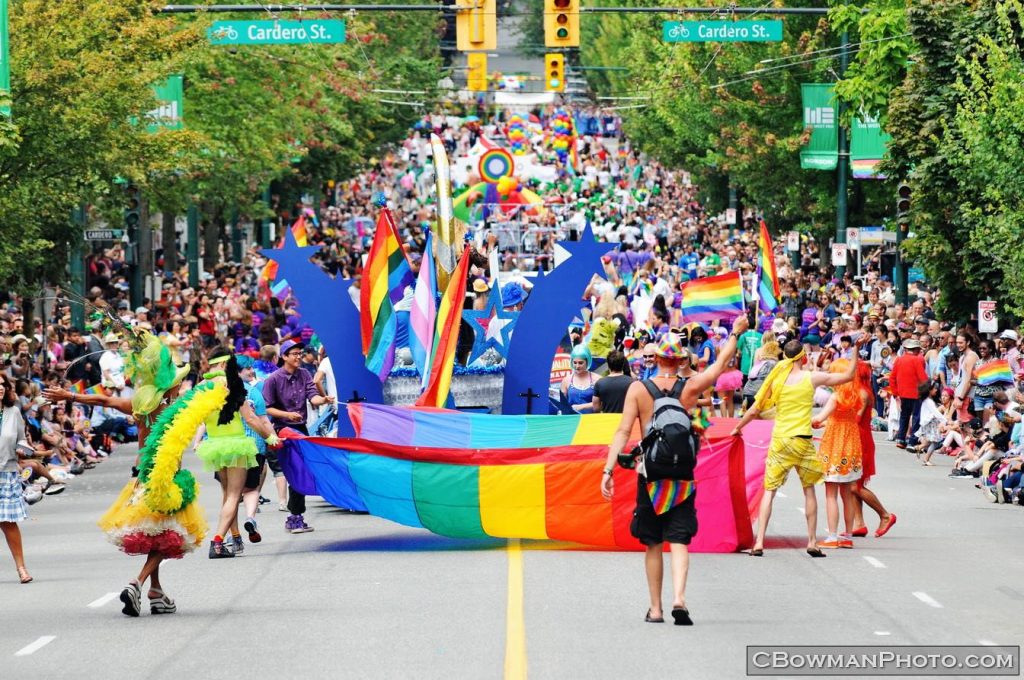 As the home base of Vancouver Pride Society, it's the organizer of the Pride Parade, celebrating its 39th year. The society aims to educate the city about the culture of the lesbian, gay, bisexual and transgender community. Designed to be a safe place for all, Jim Dava Plaza is located within the Davie Village area of West End. It serves as a place for the community to gather, enjoy Games Nights and various Arts and Crafts fairs. For a piece of Vancouver history, make a visit to the Roedde House Museum. It's a lovingly restored 20th century Victorian home. On Sundays, there is a tour and tea event where you can take in a guided tour of the home, and then end your visit with a classic tea. As well, the home has excellent acoustics which makes it perfect for the bimonthly jazz music shows on Sundays.
Dining around the world
Robson Street has long been known for its shopping but it is making a new name for the cuisine. It is truly global ranging from Korean BBQ, Japanese sushi and ramen, Greek gyros to Mexican taquerias. You'll also find traditional Shanghainese dim sum and haute Italian cuisine alongside all-you-can eat Indian buffets and Malaysian home cooking. Oh, and bars and pubs are aplenty, ensuring you'll never go thirsty or hungry. Robson and Bute is also home to a new public plaza without cars, designed to be a pedestrian-only area, just like the 800-block of Robson; it's popular with locals as well as tourists.
Where to Eat and Drink
Denman Street is also where the local community centre, library and King George Highschool are located. The street is bustling with activity, with small local cafes perched on the narrow sidewalks. There are also lots of sweet treats with a multitude of gelato retailers and cupcake shops. For a great bite after dinner, check out D'oro Gelato e Caffè. And serving more than just gelato, it's opened for breakfast, lunch and dinner too, with homemade soups and paninis. For a cozy date night, try out Espana. It's a sexy, sleek room serving something simple such as a charcuterie & cheese plate, or heartier dishes like paella, they have it all.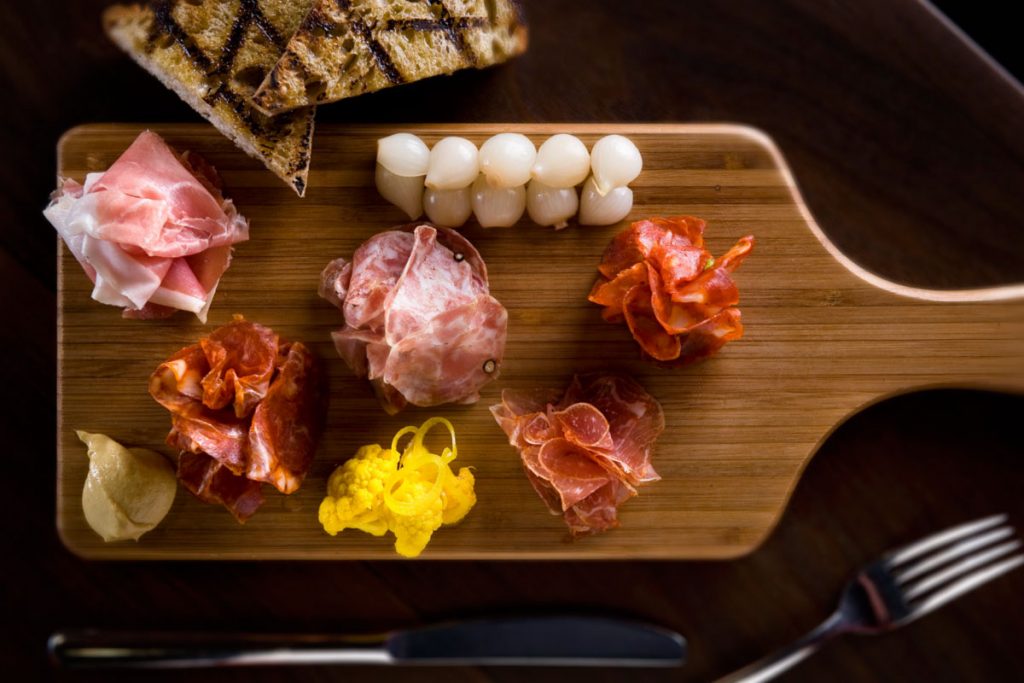 Beach Bay Café & Patio is an idyllic place to catch a scenic sunset and the water views of English Bay is . It's also a great spot for people watching too and serves up some very inventive cocktails. Another spot at the intersection of Robson and Denman is the Blind Sparrow. We've all had double-cooked fries but this place serves up triple-cooked fries with a curry coconut dip. And their craft beer game is on point, with 12 revolving taps weekly. Many more changes and enhancements are planned for the area, so come back often for updates.