Loving life at Central Lonsdale
Posted by K Milley on Saturday, March 3, 2018 at 11:13 AM
By K Milley / March 3, 2018
Comment
Previously dominated by single detached homes, the Central Lonsdale area has evolved and now includes high rises, townhomes, duplexes and semi attached threeplexes. The selling point of Central Lonsdale is its proximity to a huge variety of services, such as banks, shopping, great dining, transit, schools and and more.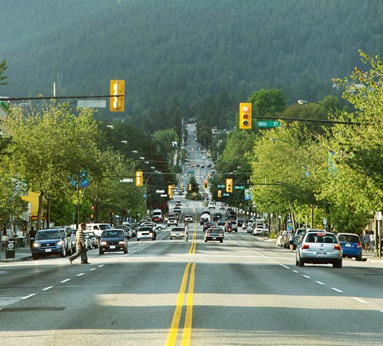 In the past there were more single family dwellings (30% in 1981 versus 15% in 2011) and the growth of apartments (5+ stories) has almost doubled (from 12% in 1981 to 20% in 2011). North Vancouver has a high rate of residents with a mother tongue other than English or French, which showcases the cultural diversity of the community. In addition to English, the top five languages spoken in the Lonsdale area include Farsi, Tagalog, Chinese and Korean. Young growing families love the growing trend of developments that are catering to townhome living and offering large floorplans complete with basement and enough bedrooms for either their growing family or an inlaw suite. These 3-4 unit developments are a great use of land and offer a the benefits of a strata but without the associated costs. Many developers, like Alchemy Construction are building stunning contemporary homes for this very specific buyer profile.
Many young North Shore families are looking at homes like the one shown below. These modern three, four and more-plexes offer a detached home feeling without the associated price tag. As a bonus, the location of Central Lonsdale is perfect for taking full advantage of all the amenities that this neighbourhood has to offer.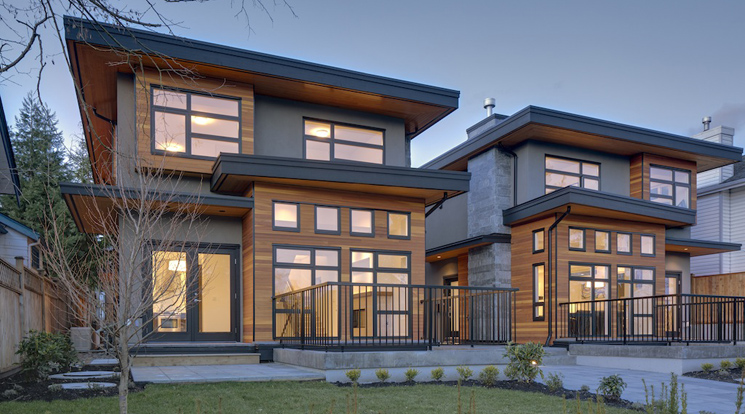 Central Lonsdale for Fine Eats
The Central Lonsdale neighbourhood is home to several chain restaurants, such as Vera's Burger Shack, White Spot and Brown's Social House. If you are looking for something a bit more exotic though, you won't have to look far. Tamarind Hill (with another location in New Westminster) consistently gets rave reviews from foodies and locals for their authentic approach to Malaysian cuisine. For something a bit more familiar, The Portly Chef offers seafood such as fish and chips and oyster po'boys and comfort foods such as mac and cheese and poutine.
Central Lonsdale for Public Art
North Vancouver is well-known for its public artworks program, with over a 100 at last count and can be found in libraries, parks and hiking trails and other public areas. These public pieces are visually impressive and serve to evoke the essence of North Vancouver's cultural heritage. In the Central Lonsdale area, be sure to look for Walk in the Forest, 35 Rings and Locate, which is the latest one installed in September 2013. To make the visit even more interesting, you can join in on the geocaching craze which is a treasure hunt that combines the technology of GPS and the various public art sites. There are a total of 12 geocaching sites in the North Vancouver area
Central Lonsdale for Green Spaces
Check out Mahon Park if you are looking for some trails, as the park features trails that wind around Wagg Creek and Mission Creek. They also have areas for organized sports such as a baseball diamond. There is even a mini water park for the kids which is very popular in the summer months. Looking for something more peaceful? Back in the 1900s, residents decided to create a Necklace of Parks in North Vancouver, and Victoria Park was the first piece of this project. Lonsdale Avenue slices through the park but there are still plenty of places to read a book amongst some of the 100 original trees initially planted which still remain.
Central Lonsdale for Families
With less hustle and bustle than Lower Lonsdale, Central Lonsdale offers a variety of family friendly amenities. Falling into two different school catchments, there are over 10 elementary schools and two secondary schools, as well as several independent or private schools. There are many newly renovated detached homes which date back to the 1900s. Many new residential developments are available, perfect for those who are looking for a townhome offering a bit of a backyard. Most of these properties surround the recently built City Hall and Library.
Central Lonsdale continues to be a popular neighbourhood for first time home buyers as well as young families. With its proximity to schools, parks, shopping, and quick access to transit the Central Lonsdale area will continue to thrive and attract buyers from all areas of the North Shore. For more information, and to talk to a real estate expert who specializes in the Lonsdale area of North Vancouver please get in touch with us at specialist @ VancouverRealEstate.com